Audio editing is now inside UBot Studio (for subscribers)!
 A few months ago we released new Video Commands into the Bot Bank. Well, now they have a companion: Audio Commands! 
As we mentioned then, online video content is now more important than ever. In a recent poll, 37% of marketers said visual marketing was the second most important form of content for their business. The only item on the list that was more important in the survey was blogging, and it came in just one percent higher at 38%.
What makes your video even better? Great audio! And of course, you can use audio entirely on its own, and these new commands make it easy to, for example, put together a bot that turns your written content directly into audio, with the new speech to text command.
How might you use these new audio commands?
Turn your old blog posts into videos without "saying" a word. Use the new video commands to make videos out of a few relevant images, and narrate them with the SaveTexttoSpeechAudio.

Combine the narration with music to make it more interesting using the
adjustAudioVolume and superimposeAudio commands.
Take the audio out of old videos that you've made, superimpose music onto the audio, and turn it into podcasts. You can even set album art for your mp3 files so they upload directly to a platform like Soundcloud in a nice, neat format.
Take a look at this simple example. I think the new SaveTexttoSpeechAudio command is going to be a popular one. I used it to create the wav file at the top of this page. It works exactly like you'd expect: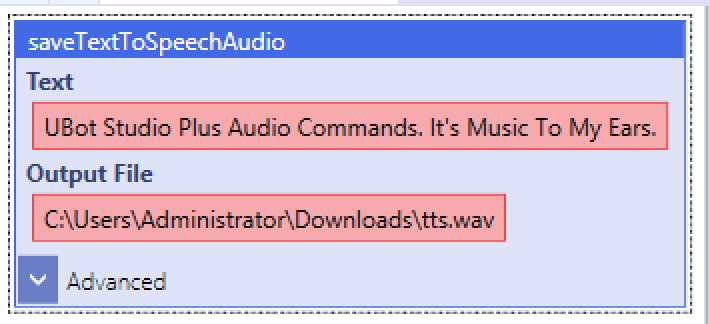 You can also drop a variable into that textbox, so it could more cleanly narrate an entire page of text if you'd like, or whatever you've entered into the variable.
I'm going to add this wav to the video I'd created before, which I'd added music to.
First, I'll download that video with the Download youtube video command:

Then, I'll extract the audio from that video file with the new audio command "extract audio from video".

Simple! Now to combine the two pieces of audio (the text-to-speech narration and the previous audio inside the video).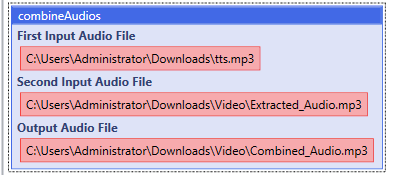 And lastly, add that new audio back into the video:

Voila.